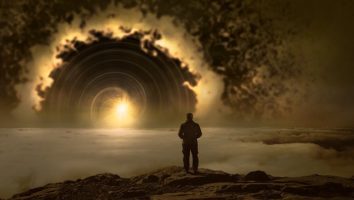 Initiations are cycles of physical or psychological separation, ordeal, and return that we encounter throughout our lives. When we fully integrate the lessons from these experiences, we develop as people and leaders. (See a previous post on initiations) However, if during or upon returning from an initiation cycle, you fail to reflect on the ordeal, you are likely to repeat similar fact patterns with similar people. As a leader, it's imperative that you learn from these initiatory cycles to become the best person/ leader you can be.
In the story of Persephone's abduction into the Underworld, she starts the story as a young maiden, known as Kore/Persephone (Kore meaning "young girl"). During her time in the Underworld while separated from her mother Demeter, she knows that if she eats anything there, she will be stuck in the Underworld for eternity. She refused to eat anything while she's there until Hermes brokers her release. It's not until she knows she's going back to her mother that she eats a few pomegranate seeds.
When she sets foot back on earth, the world bursts into bloom, and from there on, Persephone is known as the Queen of the Underworld (no longer Kore). Additionally, Homer wrote that Hecate, known for her wisdom, walked before and after her. This can be interpreted to mean that Persephone had wisdom upon her return that she hadn't had before her abduction/descent.
Upon her return, Persephone admits to Demeter that she did indeed eat a few pomegranate seeds. This ties her to the Underworld for eternity. Thereafter, she must return for a few months each year.
Self-Awareness from Initiations
Like Persephone, when you return from an underworld initiation, you will have ingested and digested "seeds" of new learning and realization that tie you to the experience. With new insights and wisdom from the experience, you can incorporate that wisdom to become a renewed and better leader.
For each initiatory experience, you can choose to accept, ingest, and digest these "seeds" of insight and wisdom to further your return/reintegration from the circumstance by asking yourself the following questions:
What role did I play in that situation?
How did I contribute to the difficulty?
What could I have done differently?
What was that situation trying to tell me about myself?
What is the opportunity for me now?
What can I practice or do differently when similar situations happen?
There will be more challenges ahead, more initiations, as if each were designed to help you grow as a leader. But if you don't take time to reflect on the "seeds" you can take away from each initiatory experience, you may stay stuck in the underworld, repeating the same unpleasant pattern.
WANT TO USE THIS ARTICLE IN YOUR NEWSLETTER, BLOG OR WEBSITE? You can, as long as you include this information with it: Beth Strathman works with leaders who want to confidently become the leader they are meant to be as they maximize the "people side" of business. Learn more at: bethstrathman.com.