Conquer yourself for greater impact.

I am fascinated with how people develop a sense of self throughout their lives. I have always had a passion for cultivating talent in others and watching them become their best. This is borne out by my career path (so far): Teaching, Human Resources, and now Coaching.
. . . in the first half of life, we conquer the world;
in the second half of life, we conquer ourselves.
There is a saying that in the first half of life, we conquer the world; in the second half of life, we conquer ourselves.  This has certainly been true for me, and it seems to be the case with my clients.
Especially if you lead others successfully,  your professional development and success in life depends on overcoming parts of yourself that no longer benefit you.
In the early part of my career, I focused on my ability to perform my work tasks successfully. Then, mid-career I realized my drive and directness could be a liability regardless of how well I performed work tasks.  There were situations, where in spite of the fact that I was smart, fun to work with, professional, hard-working, and competent at my job, I didn't always respond very skillfully in situations. I realized I had to own my part in any negative experiences I had.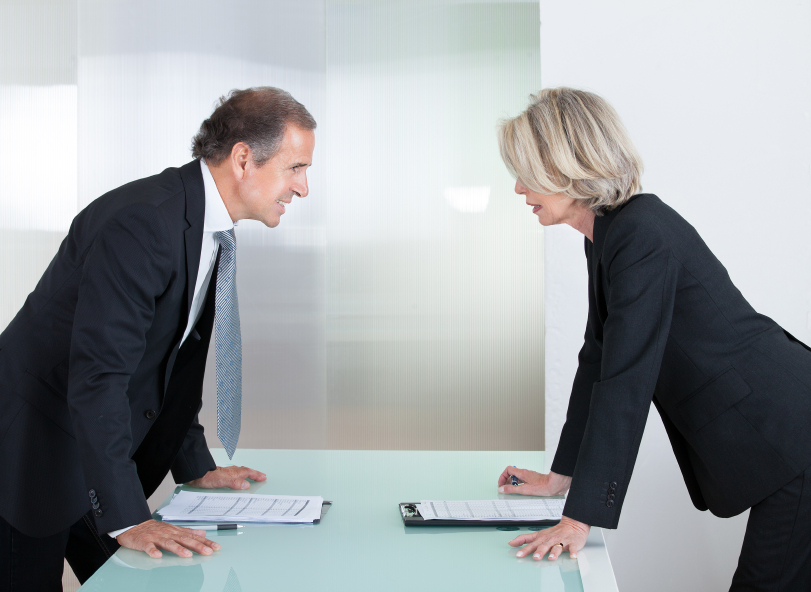 While I may not have always reported to solid or well-adjusted leaders, I learned to adapt my approaches and responses to whatever circumstances I found myself in.  In short, I shifted from CONQUERING THE WORLD with my knowledge and skills related to work tasks, to CONQUERING MYSELF in order to respond better and to create conditions that more readily engaged others to accomplish work goals.
Upon reflection of my own experiences and over time, I have learned a lot and want to share what I've learned with others, who are proficient and competent but who realize they must let go of old ways of being and use their strengths  – but not to the point those strengths become a liability.
Now, I work with business team leaders who want to "conquer themselves" to foster greater innovation and success with executing strategy.

My Mission is to:
Work with executives and other team leaders through one-on-one and small group coaching, group training, and facilitation to create thriving organizational cultures that allow employees be more creative and innovative. I prepare leadership teams and other key stakeholders to:
Maximize your leadership capabilities — conquer yourself and get out of your own way;
Intervene skillfully to create team environments that maximize employee engagement and innovation; and
Engage employees and other stakeholders in meaningful ways to address current strategic business goals and challenges.
My Values
Integrity
I say what I mean; mean what I say; and do what I say I will do. I own up to mistakes and correct them.
Courage
I do things that scare me as part of my on-going development.
Humor
I'm a huge Bugs Bunny fan. I will use humor to connect with and to challenge you. I am serious about serving you well, but I don't take myself too seriously. When we work together, I might poke fun at a situation to break down barriers and allow you to see a new"truth"  about the situation.
"My time spent with Beth was well structured, purposeful, and very enjoyable!. . . . Through the work I did with Beth, I saw positive changes that directly impacted my team and my professional relationships.
Specifically, my management team now takes responsibility for and actively finds solutions for issues more readily and with greater purpose, instead of relying on me to figure things out. I was also able to create an action plan that will carry my team through the next few years. . . .
I am grateful for the time that I spent working with and learning from Beth and would highly recommend her services to those looking to elevate their leadership skills."
— Toni Takeno, Chief Programs Officer
Ronald McDonald House of the Intermountain Area, Inc.
Who do you need to be to lead your team to game-changing success?
Work with me to get to the heart of the matter. I'll guide and support you and your team as you try out tools, exercises and techniques to find what works for you to navigate any leadership challenge. You'll increase your ability to engage and encourage your team to more fully participate in executing and achieving your company's strategic goals.
Not sure what to do first?
Let's talk.
I value having integrity. I will be up front with you about whether or not I'm the right coach for you. (And I expect you to be up front with me, too.) I know many other coaches and occasionally refer prospective clients to other coaches who can better meet their needs.
I've worked in a variety of organizations with a variety of individuals at all levels of leadership. I will work with you to find the right combination of strategies and techniques that will serve you the best.