I've been an upstart my whole life .
Once a Firebrand, Always a Firebrand
I am a Leadership Coach who can guide you to move from frustrated & unsure to purposeful & confident.
I have a passion for cultivating talent in others. Look at my career path (so far): Teacher, Human Resources, and now Coach. People and their stories fascinate me. Regardless of the context — classroom or workplace — I have seen the same group dynamics at play. I've simply shifted my focus from students to employees to corporate leaders.
I've Have a Passion for Developing Myself and Others
When teaching elementary school, I worked with a building of mostly women — strong, amazing women who got along and got things done. It wasn't until after law school, when I entered the corporate world in Salt Lake City, Utah (that's another story) that I realized my drive and directness was now a liability.
I tended to work for organizations with the challenge of bolstering their anemic HR functions. I was usually one of very few women in management and worked for men who tended to have a "traditional" view of what women were supposed to be and do — submissive to authority, paperwork pushers and party planners, don't speak up, and don't have an opinion.
While the men could call each other out on their stuff, I couldn't. Many times, as the head of HR, I was not included in decisions related to talent and workforce strategy. With one company, I was the only woman in management and was not allowed to ride in the same car to other sites alone with another man for fear of  . . .  well, who knows what.
So, in spite of the fact that I was smart, fun to work with, professional, hard-working, and did my job really well, I wasn't on the "inside". And, I admit,  I didn't always respond very skillfully in these situations. At the time, I simply chalked up my experience to working with inept leaders.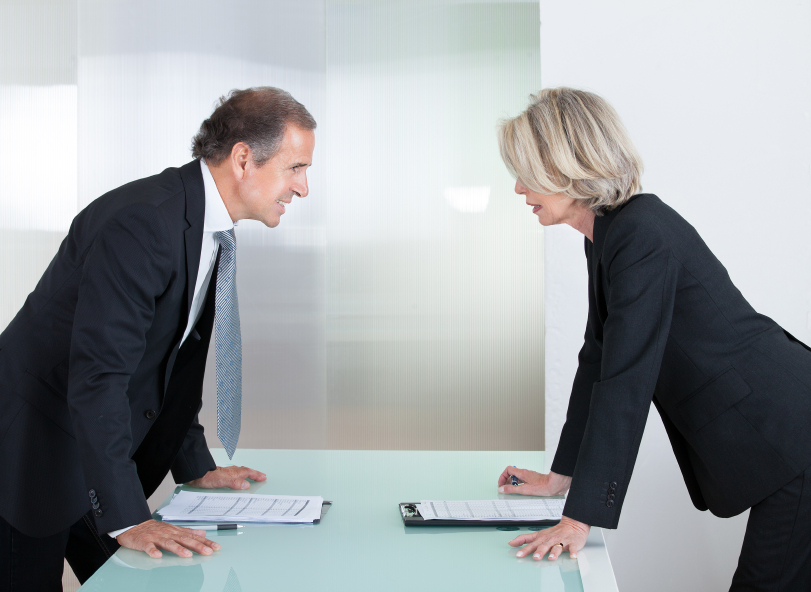 Well, I may not have always reported to solid leaders, but I had to admit my part in the experiences I had and learn how to adapt to whatever circumstances I found myself in. I wanted to figure out how to use whatever influence I had to get things done no matter the situation.
Upon reflection and over time, I had learned a lot and wanted to share what I'd learned with women like me, who were competent but who hadn't settled on their own balance of the masculine focus on the work with feminine focus on people and relationships.
Now, I work with women who are in leadership in medium-sized companies who want to have more positive impact within their organizations.
Now, I work with women who are in leadership in medium-sized companies who want to have more positive impact within their organizations.

My Mission is to:
Work with women in leadership through one-on-one and small group coaching, mastermind groups, and group training to create greater personal fulfillment and demonstrated career success so they:
Explore and embrace their unique identities, gifts, and challenges
Align and reconcile their personal mission, values & goals with those of their organization
Focus their daily work to fulfill personal and organizational priorities for maximum results with less effort, and
Maximize the impact with their teams.
My Values
Integrity
I say what I mean; mean what I say; and do what I say I will do. I own up to mistakes and correct them.
Courage
I do things that scare me as part of my on-going development.
Humor
I'm a huge Bugs Bunny fan. I will use humor to connect with and to challenge you. I am serious about serving you well, but I don't take myself too seriously. When we work together, I might poke fun at a situation to break down barriers and allow you to see a new"truth"  about the situation.
"My time spent with Beth was well structured, purposeful, and very enjoyable!. . . . Through the work I did with Beth, I saw positive changes that directly impacted my team and my professional relationships.
Specifically, my management team now takes responsibility for and actively finds solutions for issues more readily and with greater purpose, instead of relying on me to figure things out. I was also able to create an action plan that will carry my team through the next few years. . . .
I am grateful for the time that I spent working with and learning from Beth and would highly recommend her services to those looking to elevate their leadership skills."
— Toni Takeno, Chief Programs Officer
Ronald McDonald House of the Intermountain Area, Inc.
What do you envision when you imagine who you want to be
as you lead your team?
I'm able to see into your stories, so you get to the heart of the matter. Then, I'll and guide you through experimenting with tools, exercises and techniques to give you what you need to navigate any leadership challenge . . .  without apologizing for being a smart, strong, capable woman leader.
In short, you can be authentically "you" AND be accepted by your colleagues.
Not sure what to do first?
We should talk. I value having integrity. I will be up front with you about whether or not I'm the right coach for you. (And I expect you to be up front with me, too.) I know many other coaches and occasionally refer prospective clients to other coaches who can better meet their needs.
I've worked in a variety of organizations with a variety of women at all levels of leadership. I will work with you to find the right combination of strategies and techniques for you to use that will serve you better.