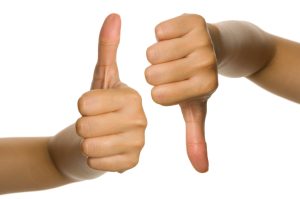 Giving quality feedback in a respectful way can be hard. Receiving feedback in a respectful way is even harder. (Even receiving positive feedback for some is difficult.) After receiving negative feedback in particular do you notice you have heightened negative emotions or niggling thoughts that linger long afterwards? That just shows you care.
When I refer to feedback, I mean any information that is given to you about your own behavior, communication, or performance that is intended to make you aware of how you impacted someone else – whether good or bad. However, I'll focus on receiving negative feedback, which feels harder to swallow.
"We all need people who will give us feedback. That's how we improve."
Bill Gates
As a business leader, you probably find yourself being the formal giver of feedback more often than a formal receiver of it. Still, there are many opportunities to receive feedback. You can solicit feedback from individuals, via employee surveys, or through a 360-degree feedback process. You may also receive unsolicited feedback from anyone you work with.
Positioning yourself as a good receiver of feedback can be very powerful for you personally and as a role model for your company. It really boils down to being the "bigger" person when receiving feedback.
If possible, you can practice receiving feedback on your terms by creating the best conditions possible to get feedback. These are situations where you have a lot of control by choosing the following: (1) the specific feedback you want (2) a non-threatening setting in which to receive the feedback, (3) and people who respect and trust to provide the feedback. Even under these conditions, it can still be hard to receive negative feedback, but these might be the best conditions for practicing the following tips for receiving unsolicited, negative feedback:
1. Keep your ego in check.
Even if you are high up the food chain, you aren't perfect and are not above making improvements. To avoid getting your ego too involved, frame the intentions of the feedback giver in the best possible light. What are their good intentions for giving you feedback?
2. Keep your power in check.
Be aware of any power differential in your relationship with the feedback giver, especially if you have more positional power. It's important to keep emotions down, or you risk having a chilling effect on getting future feedback. If you feel yourself getting angry, defensive, snarky, or deflecting blame back on the other person, this can be magnified by your power. Or heightened emotions may d really be signaling your insecurity around the feedback topic.
3. Gauge your intention vs. impact.
Based on the feedback, how big is the gap between how you thought you were coming across and the impact you had on others? For most feedback, this the heart of the matter, or the point of the feedback. Take stock. It is, however, harder to gauge if you don't respect the person's opinion.
4. Accept the feedback graciously.
To do this, be quiet and listen without arguing. Avoid minimizing the person's opinion, turning the tables on them to give THEM feedback, or disputing the feedback. Maintain neutral facial expressions and body language, and at the end, simply thank the person for their input. You may ask clarifying questions if necessary to understand the circumstances, or you may ask for specific tips you could employ to do better next time.
5. Consider the feedback.
You don't have to accept all feedback as true of helpful. Take time in the subsequent days or weeks to decide what feedback to accept or reject. You may want to test the feedback with others you trust or validate the feedback by noticing your behaviors in similar situations going forward.
6. Circle back to the person.
When you circle back, you do so in the spirit of letting them know you've been considering the feedback and to thank them again for their candor. You are not obligated to report on what you're doing about it. Just touching base with them again lets them know there are no hard feelings and serves as a good model for receiving feedback without letting it adversely affect work relationship.
Finding out you've fallen short of someone's expectations can be hard. It's just an indication of the degree to which you do care about being the best you can be. However, you show your colleagues and employees how to be a great leader when you can practice what you preach and give feedback as good as you get it.
WANT TO USE THIS ARTICLE IN YOUR NEWSLETTER, BLOG OR WEBSITE? You can, as long as you include this information with it: Beth Strathman works with women in leadership who want to have more positive impact within their organizations by gaining greater focus, self-awareness, and influence with their teams. Learn more at: firebrandconsultingllc.com.